What To See In Phu Quoc, Vietnam?
Phu Quoc is a peaceful tropical paradise, is about 50km away from the Vietnamese mainland. This island floats in the warm turquoise waters in the Gulf of Thailand and is considered one of the real gems of Southeast Asia.
With a peaceful, natural environment like the virgin forest of more than 37,000 hectares in area, white-sand beaches, clear blue water, diversified wildlife species as well as the delicious and fresh seafood, Phu Quoc attracts more and more the locals and foreigners to visit it. If you are planning to visit somewhere in Vietnam, then Phu Quoc is one of the best options which will not disappoint you as there are a lot of Phu Quoc island attractions, ranging from beaches, natural landmarks to historical sites, and national parks and you shouldn't the 10 attractions below:
1. Long Beach ( Dai beach)
Long Beach Phu Quoc has considered one of the 13 most pristine beaches in the world voted by the BBC, CNN GO, and many prestigious travel organizations. Like it's name, Long beach is up to 15km length, extending from Cua Can to Ganh Dau cape.
It's really easy to reach Bai Dai as it just about 10 minutes from the Phu Quoc International Airport. Coming here you will see the white sand stretches, the blue sea as jade stretches to the horizon in the golden sunshine, gorgeous sunsets, and swaying coconut palms which all make your trip unforgettable.
You can spend all day lazing on the white sands, enjoy the cool air and the spectacular view here without feeling bored. For more relaxation, tourists can also enjoy a lovely massage on the beach for just a few dollars offered by one of the seasoned masseuses. Some tourists like to take part in some other interesting activities such as snorkeling, swimming, kayaking, and more.
Especially, you will have the opportunity to learn how to make the pearl and traditional fish sauce of locals here.
2. Ganh Dau Beach ( Ganh Dau beach)
Actually, this is currently a quaint fishing village that has a pristine beach, mountains, and forests. On Ganh Dau's tip, you could see Cambodia. The Ganh Dau Beach is located on the northwestern tip of Phu Quoc in a village with the same name on the North West coast about 28 kilometers from Duong Dong, Ganh Dau Beach is among great Phu Quoc Island attractions that tourists should not skip.Coming here you will feel you are lost in a dream where there are many coconut trees, white fine sand, and crystal clear water. You can spend all day for relaxing under the shade of the palm trees, swimming and eating delicious food.
Besides, Ganh Dau beach is an ideal place for tourists to observe the sea eagle flying high in the sky and a variety of fish and marine species like crabs, clams, parrotfish, and so on are swimming under the water. Especially, hard coral is abundant on this beach.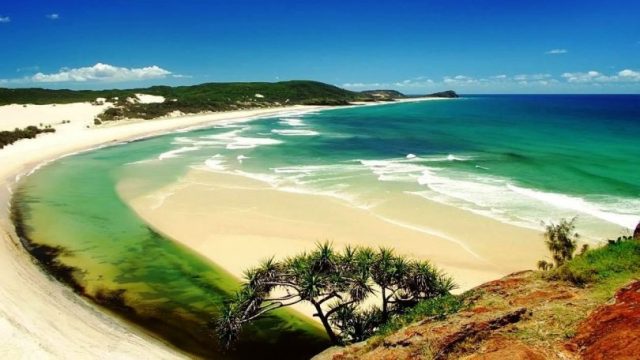 3. Sao Beach (Star beach)
Sao Beach, also known as Star Beach, is one of the most beautiful beaches in Phu Quoc. It is located on the southeast coast of Phu Quoc in a beautiful bay. The reason it has this name is in September and October, there is a variety of starfish floating on the water, creating a beautiful scene like in the picture.
Setting food on Bai Sao beach, as a tourist, you will find ecstatic with its amazingly unspoiled beauty plus with clear blue sea water throughout the year. The innocent and pristine beauty of Bai Sao beach is like the beauty of a pubertal girl who is making up and dressing for her best. Coming here you also have an opportunity to take part in some interesting activities such as swimming, some go for sunbathing, scuba diving or kayaking. However, the most preferable water sports in Bai Sao Beach, Phu Quoc Island is kite surfing. Besides, tourists could walk up and down the beach and then look for snails, crabs, and many other small crustaceans or explore jungles in the far southern and northern part of this beach.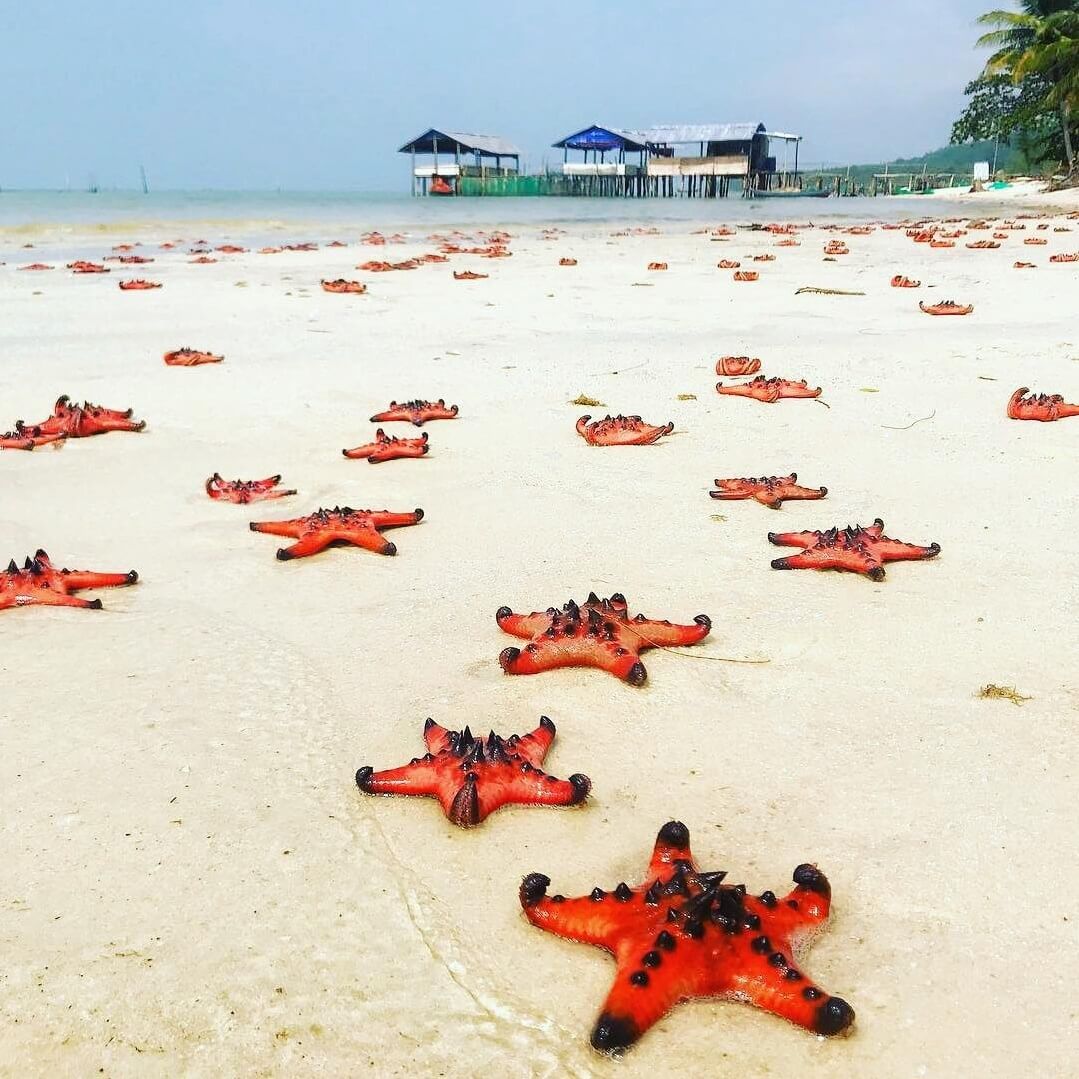 4. Dinh Cau Rock (Cau Temple)
Dinh Cau Rock, also known as Cau Temple, is an odd-shaped natural formation in Phu Quoc Island, is often mentioned as "the symbol of Phu Quoc as well as Phu Quoc locals". Before every fishing trip, Phu Quoc locals come to this temple to burn those incense sticks and then pray for a safe trip. It was constructed in 1937 to commemorate Thien Hau (the goddess of the sea), whom locals believe provides protection for fishermen heading out to the open sea. The temple is relatively quiet throughout the year, apart from annual festivities such as Tet (New Year) and Dinh Cau Festival (15–16 October), when locals offer prayers and burn joss sticks at Thien Hau's altar.
If you coming here, you should relax on a plastic chair, then order sugar cane juice and witness the stunning sunset.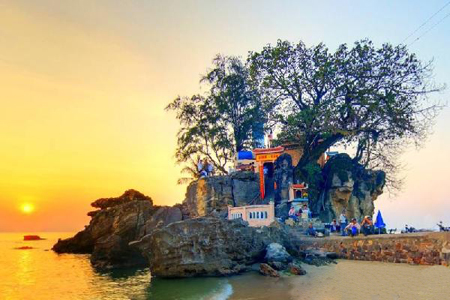 5. Vung Bau Beach (Vung Bau beach)
Vung Bau Beach, also known as Circling Beach, lays in-between Cua Can (Cửa Cạn) Beach in the south and Long Beach in the north. This beach, lapped by the sapphire-blue waters of the Gulf of Thailand, white sand, calm clear blue water and thick tall grass developing close to the seashore make this a private and peaceful beach. Besides, there is a variety of coastal flowers, a mixture of tall grass, and a good mixture of coconut palm trees and poplar. The slope into the sea is rather low, thereby making it a safe place for children as well as non-swimmers alike to play around and exit the ocean without any fear. Underwater, you might find conch, starfish, and perhaps a few sea urchins, so it is better for you to be careful when placing your feet on the ocean floor.
Sunsets can be considered as the specialty of Phu Quoc Island, in general, and Vung Bau Beach, in particular. Not only does this breathtaking view bring a calm and peaceful environment for tourists to relax and enjoy, but it is also ideal for photo taking. On the other hand, if you have a chance to visit Vung Bau Beach, do not skip trying yourself with some interesting water sports here, particularly snorkeling. This sport is great for those who love adventure.
Don't hesitate to pack your luggage, come and discover the amazing land. For more information please visit our family website:
For Vietnam online visa Govietnamvisa.com
For Vietnam local tours: Govietnamtourist.com
For exploring more parts of Vietnam:
http://www.vietnam-online.org/
Do you need help?
+84.903.488.853
From Monday to Sunday - from 08:00 to 16:30