Thap Ba Hot Springs Centre- Nha Trang
Situated about 4km north of Nha Trang City, Thap Ba Hot Spring Centre covers an area of three hectares overlooked by mountains with the Cai River running through it, creating a magnificent landscape with green trees and colourful flowers.
This is a perfect place to enjoy soaking in mud and bathing in mineral water. Great for a temporary retreat away from the bustling city, the hot springs centre is set against a mountain backdrop with plenty of greenery and flowers. It is also fitted with private and shared mud-baths, herbal-bath, Jacuzzi, waterfall, swimming pool, and sauna.
Locals believe that the natural hot mineral springs help detoxify and soothe fatigued muscles, remove dead skin cells, and supply minerals to the body. Meanwhile mineral mud is said to contain antiseptic properties which is used as a facial mask to treat acne and revitalise the skin.
15 minutes in the communal mud bath costs 120,000 dong ($5.5) per adult and 60,000 VND ($2.73) per child. After rinsing, follow up with jet sprays and a warm bath filled with mineral water. In addition to the mud bath, Thap Ba Hot Springs cool pools, thermal heated pools , a hot mineral pool and a jacuzzi, also a sprinkler and a waterfall area.
If you like the privacy and luxury, Thap Ba Hot Springs Centre has 14 VIP rooms that are fitted with indoor mineral water bathtubs, swimming pools, Jacuzzis, and inclusive of body massages, acupuncture therapy, and beauty services. Priced between VND 2.5 million and VND 5 million, the packages are inclusive of swimming attire, snacks, towels ,water, fruits.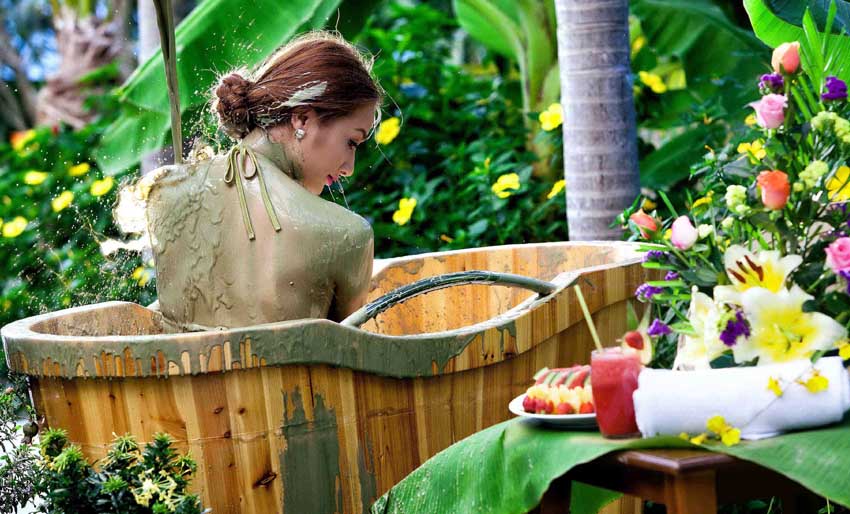 Thap Ba Hot Springs Centre
Opening Hours: Daily 07:00 – 19:00
Address: 15 Ngoc Son Street, Ngoc Hiep, Nha Trang
Tel: +8458 383 5345
Don't hesitate to pack your luggage, come and discover the amazing land. For more information please visit our family website:
For Vietnam online visa Govietnamvisa.com
For Vietnam local tours: Govietnamtourist.com
For exploring more parts of Vietnam:
http://www.vietnam-online.org/
Do you need help?
+84.903.488.853
From Monday to Sunday - from 08:00 to 16:30